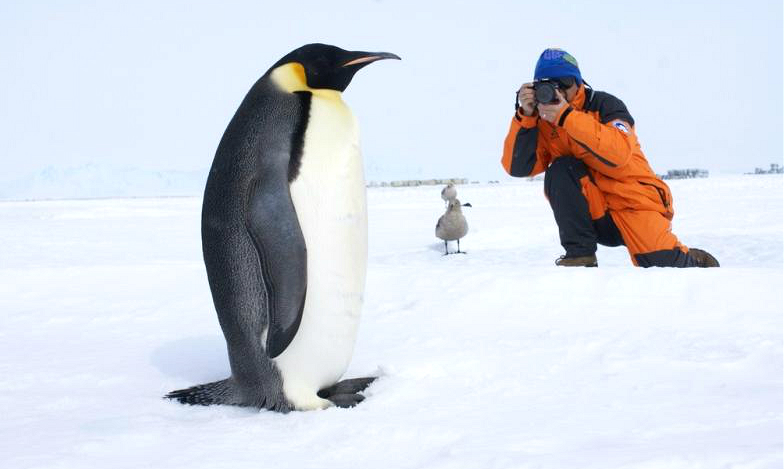 It's almost a three-week trip. It'll cost you at least 100,000 yuan (US$15,000). And before you even set foot on land you'll have to don special boots and walk over a sponge mat soaked in disinfectant.

If you think this sounds appealing then welcome to Antarctica, where the high cost of travel is doing little to discourage thousands of Chinese tourists from visiting each year.

Since trips were first approved for Chinese tourists in 2007, about 13,000 of them have made the journey, with over 5000 setting foot on the Antarctic Peninsula in the 2016-17 tourist season alone. They were among over 40,000 visitors that season, with Americans making up the largest single group.


Typically, Chinese tourists will fly to Ushuaia in Argentina where they will then board a cruise ship for a tour of the Antarctic Peninsula, or this combined with the Falkland Islands and South Georgia in the southern Atlantic Ocean.

Gao Jie, director of overseas trips at Shanghai China Travel Service, said that a broader range of Chinese tourists are now making the trip. "Initially in 2008 it was a small number of business founders and photographers. Now you see owners of small and medium businesses, artists, amateur photographers, teachers, retirees, students – a trip to Antarctica is a lot more achievable than it used to be."

The youngest of Gao Jie's customers had his sixth birthday the day before setting off – just reaching the minimum age permitted. The agency is applying for a Guinness world record on his behalf.

The number of tourists to Antarctica has more than doubled from about 20,000 in 2010-11 to about 45,000 in 2016-17. This compares to just over 6,700 visitors in 1992. And following the approval for Chinese tourists in 2007, they have grown from just over 3% of visitors in 2010-11 to almost 12% this season.

Fragile ecosystem

As the number of tourists grows, some are worried that the Antarctic environment will be damaged, with an official from the Chinese foreign ministry saying that tourism to Antarctica should not be expanded for this reason.

Chinese tourists travel on organised cruises (only one couple has made an independent trip), and are subject to strict rules. Cruise ships are registered with the International Association of Antarctica Tour Operators (IAATO) and operate under the terms of the Antarctic Treaty. IAATO's guide for tourists explains how to avoid disturbing animal and plant life, protected areas, and scientific activities.

Amanda Lynnes, communications and environmental officer with IAATO, confirmed to chinadialogue that if cruise ship passengers breach any regulations then the boat operator would be subject to investigation by the certification body: "It would be quite difficult for an individual to violate the 'rules' without being stopped by staff. If the IAATO Secretariat is made aware of any wrongdoing, we do follow-up on a case-by-case basis and have a compliance and dispute process to fall back on if necessary," she said.

Some countries where Antarctic tourism is more established have their own specific rules for visiting, alongside those set out in the Antarctic Treaty. The US forbids carrying rubbish, plants or animals, and breaches can be dealt with under civil or criminal law. Japan requires visitors to register with its environmental authorities. As yet, China has no such rules in place.

Gao Jie notes that the ships themselves are more of a problem because of exhaust emissions, waste water, and noise. There isn't much tourists can do, bar minimising noise, electricity use and production of waste, and carefully following tourist guidelines.

Claire Christian, interim executive director of the Atlantic and Southern Ocean Coalition (ASOC), told chinadialogue that a strategy for tourism under the Atlantic Treaty framework is needed in order to avoid environmental damage. But talks are at an early stage and have not produced a plan yet.

ASOC argues that a precautionary approach is essential because if cruise ships are not members of the IAATO then they are not restricted by the Antarctic Treaty. Christian added that regulations will be needed and that this might include "limits on the number of visitors to certain sites."

Climate

But the biggest danger to Antarctica isn't tourism, it's climate change.

In early July an iceberg the size of Switzerland separated from the Larsen C ice shelf, part of the Antarctic Peninsula. Some reports attributed this to climate change, while other researchers have said there is no direct link. However, the collapse of the Larsen A ice shelf in 1995, and of Larsen B in 2002, has been linked to regional warming.

Antarctica is one of the world's most rapidly warming regions. Over the past 28 years snow and ice coverage has fallen by 40%. This has affected breeding grounds, forcing penguins on the peninsula to move to new locations.

A polar tourism alliance

Although there are no Chinese government policies regulating tourist behaviour in the polar regions, there is some consensus within the industry on the need to promote responsible tourism.

Ten travel agencies signed up to one such initiative in May at an Antarctic Treaty meeting held in Beijing. This will see the companies help tourists buy carbon credits to offset the five tonnes of carbon dioxide emissions that result from one person's trip. This is equivalent to approximately two return flights from Beijing to London.

The initiative includes Gao Jie's agency and the Chinese agent for an international cruise ship operator. Together, the signatories account for over half of all Chinese tourists going to Antarctica.

There was no national carbon market in China when Gao Jie first promoted the idea of carbon-neutral tourism so the company bought 1,000 tonnes of carbon credits from the Shanghai Environment and Energy Exchange instead. Now there are carbon markets and companies dedicated to carbon off-setting, which makes things much easier.

But it would still be hard to do this on a larger scale. "There's a lot of work involved in calculating emissions for each tourist and making up the low-carbon certificates," said Wang Jianmei, deputy head of Magic Travel, a high-end travel agency and signatory to the initiative.

Wang added that they're unable to do the same for less expensive trip itineraries. However, she is sure that responsible travel will become more common in the sector.

Claire Christian said that while carbon offsetting is only the most basic method of reducing emissions, it helps tourists see the environmental impact of their trip to Antarctica. "The polar regions are especially impacted by climate change and so it is very appropriate for tourism operators to minimise their contributions to carbon emissions."