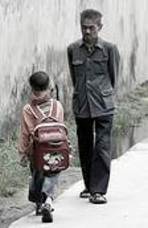 The Chinese public should "make full use of the rights that the constitution grants them: the right to know, the right of expression, the right to monitor the government and participate to a greater extent in environmental protection." These were the words of Pan Yue, deputy director of China's State Environmental Protection Administration (SEPA), in a speech marking "Green China Day" on March 31 2007.
This mention of greater public participation got a lot of people's attention and sparked a fierce debate in the media. So, what did he mean? Here I would like to make some preliminary remarks on why greater public participation is needed, and how members of the public can participate more in conservation work.
Why greater public participation is needed
The public should participate in environmental protection because the environment is of crucial public interest. In the face of increasing environmental challenges, traditional models of participation – such as picking up litter or planting a tree once a year – are no longer effective. A deeper level of participation is needed: the public needs to get directly involved in the management of environmental public affairs and work together to find solutions.
Environment departments have been strengthening their administration for some years now. But the shortsightedness of certain local governments has meant that local officials are often unable to enforce the law. Moreover, the cost of observing the law is often higher than the cost of breaking the law: a strange situation, which has led to companies sacrificing the environment for the sake of a profit. Although central government has made environmental protection a national priority, ecological degradation has not yet been curbed. The targets for emissions reductions and reduced energy consumption, set by central government at the start of the eleventh Five-Year Plan in 2006, have not been met.
Faced with such great challenges, we urgently need to push forward environmental protection and overcome the obstacles posed by the current system. As Pan Yue made clear in his speech, the final impetus to solve China's environmental crisis will have to come from the public. It is a question of the water we drink, the air we breathe and the world our children will grow up in, and the public will not compromise on these most basic of issues. Once the public has been brought into decision-making and management processes, they will become an immovable obstacle to officials and industrialists who would abuse their power for their own ends. The public will be policy-makers that cannot be bribed by developers, law-enforcers that cannot be ignored by polluters.
The lack of public involvement is the greatest flaw in the current system of environmental and natural resources management. China is now a society with multiple interest groups. It is not enough to rely on SEPA as the lone spokesperson for the environment. The public cannot sit by and watch environmental departments fight this battle on their own; they must enter into environmental protection work and support the environmental departments.
Greater public participation is also needed to transform China's model of achieving economic growth. It is precisely because of the lack of widespread public involvement that many local governments tend towards industrial development when deciding development policies – whether consciously or not. Allowing the public a bigger say in the policy-making process will mean that environmental risks can be properly taken into account, and projects can be vetoed if they gain political results at the expense of the environment.
Public participation would change the cost-benefit analysis of new projects: it could encourage more energy-efficient projects and industries – such as service industries. Methods of achieving economic growth would be altered, eventually helping us to balance development with conservation. We could start to "put people first" and create a harmonious society. And if we really value disadvantaged groups, we should let them have full and comprehensive information, and allow them to participate in environmental protection work. Then they can start to compete with other interest groups and attain their right to a clean environment.
How the public can engage
In recent years, China has put a lot of effort into promoting public participation in environmental policy making, with some notable successes. China passed its first law demanding public participation in 2003: the law on environmental impact assessments. The next year the State Council went further, with its plan for lawfully implementing government administration, which meant that information disclosure became the rule, rather than the exception in government.
These rulings provided a legal and political framework for further public participation. But where do we go from here? Two-thousand years ago, the philosopher Mozi was asked, "What is the greatest righteousness in conduct?" He answered: "It is like building a wall: let those who can lay the bricks, lay the bricks; let those who can apply the mortar, apply the mortar; and let those who can carry the materials, carry the materials. Then the wall can be completed. To conduct oneself with righteousness is just like this." Today, the situation is the same: to move forward, environmental protection needs different professions to play to their strengths and work together. The China Environmental Culture Promotion Association made a proposal to mark Green China Day. They called for all those who care about the environment to take the following steps:
* If you live in a residential compound, keep an eye on local construction projects. If they look to be creating pollution, ask the relevant environmental department to hold an environmental impact assessment and hearing.
* If you are a consumer, avoid buying products from companies classed as heavy polluters by the government.
* If you are a lawyer, help and support the victims of pollution.
* If you are a People's Congress deputy or People's Consultative Conference member, put forward proposals for urgent environmental action.
* If you work in the media, use any opportunity to tell people about the environment.
* If you work in the corporate world, check to see if your company has had an environmental assessment.
* If you are a celebrity, use your fame to set a model for green behaviour.
* If you work in the government, set an example by taking practical action to implement the "scientific concept of development."
These actions all conform to national policy and are completely lawful. And they are all forms of participation that anyone can try out in their everyday lives. Take consumer action as an example: on this year's World Water Day, 21 Chinese environmental organisations called for Chinese consumers to make "green choices" – to take companies' environmental performance into account when buying their products, and use purchasing power to help companies improve their environmental record. In response, over 20 companies came forward to talk to the campaign; most of them provided written information about their actions and the measures they would be taking to rectify their mistakes (for more detailed information, see http://www.ipe.org.cn). Six of these companies promised to accept third-party inspections, hoping they could prove their ability to obey regulations in future.
Recent experiences have shown that China's conditions are not yet ripe for full public participation. However, people can still engage to a great extent, and in many different areas. Environmental issues are at the forefront of public participation due to the new rules on official transparency. Freedom of information makes public participation possible, and the new regulations provide a relatively strong legal basis for participation. All action, from environmental impact assessment hearings to the "green choice" initiative, is founded on freedom of environmental information. We can now look forward to the State Council's regulations on freedom of information – China's first such regulations – coming into force.
Of course, public participation also needs to suit the prevailing social conditions. It should work to solve problems and social contradictions. The central government, in its 2006 resolution on creating the "harmonious socialist society," said: "Orderly political participation of citizens should be expanded at all levels to guarantee that the people administer affairs of the state, the economy, culture and social affairs in accordance with the law. Policy-making should become more scientific and democratic, and disclosure of political affairs should be widened in order to guarantee, in accordance with the law, the citizens' right to know, right to participate, right to express opinions and right to supervise the government." Orderly participation can only be recognised as the meeting point of the interests of government, business and the public when people at all levels of society enter into environmental protection work. It is clear that the public is willing to engage in environmental management in a legitimate, reasoned and orderly way, as has been demonstrated by the experience of open environmental impact assessment hearings, the participation of environmental groups in hearings and law-making, the "green choice" consumer initiative, and the efforts companies have been making to take social responsibility more seriously. We believe that if everybody makes the effort, public participation in environmental protection work will surely increase, and there will be a new dawn for environmentalism in China.
This article was first published in Green Leaf magazine
Ma Jun is director of the Institute of Public and Environment Affairs
Homepage photo by Alex Hailong