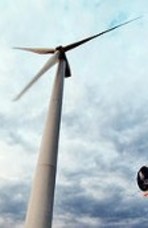 Nuclear advocates talk of a three-stage progression that leads ultimately to controlled fusion, the gold standard of nuclear technology due to its inexhaustibility. Undermining the development of the industry, however, are constraints – mainly natural and economic – which mean that China will not be able to choose the nuclear option.

Constraints

Crucially, deposits of uranium, which are needed to fuel reactors during phases one and two of the three-phase transformation, are only modest in China - sufficient only to produce a fraction of China's energy needs over a 40-year period. Phase two fast neutron reactors, which use uranium sixty times more efficiently, improve on the returns currently achieved by thermal reactors, but overall power output would still fall 50% short of demand if China is to fully industrialise.

Cost, too, is a significant factor for planners to consider. Tomorrow's fast neutron reactors will produce energy that is three to four times more expensive than thermally-produced current that is currently produced. Meanwhile, controlled fusion – the last of the three phases – will raise costs by a factor of ten and, according to the most optimistic of estimates, this type of reactor will not be commercially viable until 2050. Disposal costs, too, are often underestimated, and the technology for doing so often neglected.

Boundless energy
Supporters of renewable energy also plot a three-stage progression for the development of the industry – from hydroelectric power, to wind, and finally to solar – and China is already in the midst of stages one and two.

Dams alone already produce 22 times more energy than thermal reactors at half the cost and there is enormous capacity for further expansion.

Wind, too, offers significant, untapped potential and could, in theory, generate three times more power than fast neutron reactors at an increasingly low cost. Further savings are expected thanks to recent breakthroughs in the field of maglev (frictionless) technology, which allows turbines to be placed in areas where average wind speeds are low, extends the operational shelf-life of hardware and reduces the unit cost of power to consumers. (See table 1.) According to researchers at Guangzhou Zhongke Hengyuan Energy Science & Technology Co., Ltd, an energy company in southern China, maglev wind power generators also produce about 20% more power than traditional turbines.

Table 1: Projected cost of wind power (1981-2020)


X-axis: Year
Y-axis Cost / Euro cents / kWh
Greatest potential, however, lies in China's vast endowment of deserts and plentiful sunshine in its northern regions, which could (based on the capabilities of today's technology), produce 16700 gigawatts (GW) of solar power. That's enough to meet any future energy demand.
Some serious suggestions

To achieve this, however, China needs to: develop hydroelectric power, with the aim of fully utilizing the 400 GW of commercially viable sources over the next 10 to 15 years; commercialise wind power, reducing costs to a level competitive with thermal power within 5 years and develop photovoltaic and solar concentrator technology, reducing costs to a level competitive with thermal power by 2015-2020.

In the longer term, serious consideration should also be given to a new vision for China's desert regions, which could (with the right technology and infrastructure in place) conceivably house solar plants capable of producing 5,000 GW of power spread across an area of desert the size of the UK.
Table 2: Three-stage development of the nuclear and renewable industries – comparable output, cost, labour and technological requirements

Professor He is a senior researcher at the Institute of Theoretical Physics and Chinese Academy of Sciences (CASS).

Homepage photo by Tam Tam