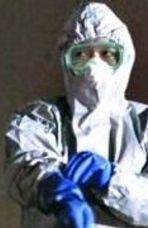 Zhang Jingsheng puts on some light make-up, ties her hair back in a ponytail and leaves the house in a short jacket, grey wool dress, glossy tights and heeled boots. Heads turn as this beautiful young woman, who turned 18 in March this year, walks down the bustling streets of Xinzhou in Shanxi province.

Nobody would guess that her mother was exposed to radiation when she was 19 weeks pregnant. This was China's first confirmed case of in-utero irradiation, and the Zhang family's story is on record at the International Atomic Energy Agency.

At home, Zhang Jingsheng is Jingjing, much-loved daughter of her mother and step-father. In neighbourhood gossip, she's Jingsheng, whose father tragically died before she was born. And in research papers, she is the subject codenamed "Jing", who grew up to have an IQ of only 46.

Zhang Jingsheng's family live in Xinzhou's Nanguan village, a 10-minute walk south of the landmark Jinbei gate, where the old city used to be. But the city has developed towards the north, leaving Nanguan behind. "This is a slum now," says Jingsheng's mother Zhang Fang.

Zhang Fang, 42, has dark and shiny curly hair, but if she lowers her head, shocking white roots are visible. "It's dyed. My hair turned white when I was 30," she says quietly. "If none of it had happened, things would be so much better now."

The Zhang family will never forget November 19, 1992. That day, Zhang Youchang, a builder, went out to work as usual. His new wife, 23-year-old Zhang Fang, was working as a loom operator at a local textile factory.

"He was back before noon," Zhang Fang's father, Zhang Chouyin, recalls. "He said he felt sick, his stomach hurt, he couldn't stop vomiting."

The doctors at Xinzhou Hospital couldn't work out what was wrong, so Zhang Chouyin took his daughter – pregnant at the time – home to rest, while Zhang Youchang's brother Zhang Youshuang stayed at the hospital. But four days later, Zhang Youshang also fell ill, his cheeks and saliva glands turning a frightening shade of purple. The hospital panicked and isolated them both on an infectious diseases ward.

A week later, Zhang Chouyin, together with Zhang Youchang's father Zhang Mingliang carried the brothers to the hospital at Shanxi Medical College in Taiyuan. Zhang Youchang was losing his hair, and his right thigh and the right side of his stomach were turning purple. For the first time, Zhang Chouyin heard the phrase that would haunt him for the rest of his life: "radiation sickness". After consultation, the doctors raised this as a possibility – but the provincial health authorities dismissed the idea, as there was no record of any radiation incident in Xinzhou.

Unable to get a diagnosis from the hospitals in Taiyuan, the two brothers were taken home. On December 3, after 14 days of suffering, Zhang Youchang died. The next day, Zhang Youshuang lost a clump of hair while washing, later he found blood in his stool and developed a fever. Three days later, he also died.
Then Zhang Mingliang fell ill. And, after two days, his breathing difficulties became so severe that he too passed away.

Nineteen years later, Zhang Chouyin still chokes up when he talks about the loss of his daughter's family. He says that, only a few days after Zhang Mingliang died, Zhang Fang started to lose her hair. At the hospital, tests revealed that her white blood cell count was low. That night, Zhang Chouyin took his daughter on the train to Beijing.

The day after they left, the local epidemic-prevention station announced that everyone who had had contact with the family was to be isolated. "If we had left it one more day, we wouldn't have been able to leave," says Zhang Chouyin. "When we got to Beijing, my daughter was already too weak to move."

After being passed between several hospitals, Zhang Chouyin and his daughter arrived at Beijing People's Hospital (now Peking University People's Hospital), known for treating diseases of the blood. By this point, Zhang Fang's white blood cell count was less than one tenth of normal levels.

Zhang Chouyin is still grateful to professor Lou Bincheng, director of the hospital's emergency room. "They wanted a 40,000-yuan [US$6,100] deposit – for a rural family that's an astronomical sum. I'd already bought tickets home, but professor Lou stopped us and said they would treat her for whatever we could afford."

"We might not have been the best hospital, but we had a conscience," says Lou, who retired in 2000. He was worried that, with such a low blood count, an infection could kill both Zhang Fang and her unborn child.

Back then, Wang Zuoyuan was head of the Industry Health Laboratory at the Ministry of Health (now the China Centre for Disease Control's National Institute for Radialogical Protection). He remembers an anxious Lou turning up to tell him about a suspected case of radiation poisoning. On December 20, they held an expert case conference and, after an analysis of lymphocyte abnormalities, a diagnosis of moderate acute bone marrow-type radiation sickness due to exposure to cobalt-60 was made on December 30.

Radiation sickness is usually caused by the body absorbing over 1 gray of radiation (the gray is the scientific unit of absorbed radiation dose), while bone marrow-type radiation sickness is characterised by damage to blood function. In a paper published later by Lou and colleagues, they estimated that Zhang Fang had absorbed a radiation dose of 2.3 grays.

Wang Zuoyuan is retired now, but at the time of the incident he was head of the Institute for Radiation Protection. He flips through a thick folder full of material relating to the radiation incident at Xinzhou and recalls the struggle to find the cobalt-60 radiation source. "It was stranger than a TV detective show," he says.

In 1973, Xinzhou's Science Committee obtained six cobalt-60 radiation sources to improve crop quality (in a process called food irradiation, crops are exposed to ionising radiation to destroy bacteria, viruses and so on). When the committee moved over a decade later, the sources were sealed in a vault and the building handed over to the local environmental-monitoring station.

In 1991, the station asked the Taiyuan-based China Institute for Radiation Protection to remove and store the cobalt-60 radiation sources. But the number of sources in the underground vault had been incorrectly recorded, and only five of the six metal cylinders were removed. Nobody asked where the sixth was.

On November 19, 1992, builder Zhang Youchang arrived at Xinzhou's environmental monitoring station – his team was to dismantle the 1-metre wide, 10-metre deep vault. By the entrance, Zhang Youchang saw a metallic cylinder sparkling in the sun. He picked it up and popped it into his pocket.

It was the radiation from that piece of metal that killed him, his brother and his father, that harmed Zhang Fang and her unborn child and that eventually affected more than 100 people.

The Ministry of Health dispatched a team to track down the source of radiation. Someone from the hospital in Taiyuan recalled a metallic cylinder falling from Zhang Youchang's pocket while he was there. It had subsequently been thrown away and the rubbish removed by the bin men. The rubbish should have taken it to the landfill outside of town, but to save some time the bin men stopped halfway and dumped it by the road.

"We went to the landfill first – we were shocked to see this huge dump full of rubbish," says Wang Zuoyuan. How long would it take to find a radioactive needle in that haystack?

But under public security bureau questioning, the two bin men admitted that they had broken the rules. Clad in protective gear and using a construction digger, the Ministry of Health team searched for the cobalt-60.

Surprisingly, despite being under orders from their superiors to find the cobalt-60, Wang Zuoyuan and his colleagues found some of the local authorities uncooperative. The first time the Shanxi authorities were contacted about the cases of radiation sickness, they even denied it had happened.

Ten years later, Wang visited the area again, this time with a television crew filming a documentary about radiation sickness. Despite a letter of approval from the provincial communist party committee, they were turned away at the hospital and elsewhere.


This article originally appeared in Century Weekly, where Cui Zheng is a trainee reporter.

NEXT: Radiation sources across China

Homepage image from Baidu