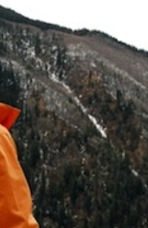 In March this year, an investigation by environmental NGO Greeenpeace found that large areas of natural forests were being chopped down in western Sichuan, west China, prompting concern among conservationists, NGOs and staff at China's State Forestry Administration (SFA). The environmentalists wanted to find out why widespread deforestation is still taking place, when the authorities claim to provide strong protection for natural forests.
At the end of last year, environmental activist Wang Wuzhi discovered that large areas of natural forest were being felled in Dege and Baiyu counties in Sichuan's Garze prefecture.

On March 18 this year, Greenpeace's "forest crime unit" arrived on the scene and saw for themselves the ongoing destruction of forests at Babanggou and Maiqugou in Dege, and Dengqugou on the county border between Dege and Baiyu. "All along the road you see 'Natural Forest Reserve' signs," said Yi Lan, a forest campaigner for Greenpeace China. Showing me a photograph (see below), she continued: "You can see one of the signs in this photo. The reserve is several thousand hectares in area – and even behind the conservation sign, you can see what's happened to the trees."
Large areas of forest behind the forest reserve sign have been felled.

"Most of the trees chopped down were firs and spruce firs, with trunks measuring 40 centimetres to 80 centimetres in diameter," Yi said. "Some even reached a metre in diameter and were more than 20 metres tall."

The team found that some of the felled trees were more than 100 years old. Because of their position on the thin soil of this high-altitude cold-temperate zone's steep slopes, they will be hard to replace with new plantings. "At Babanggou, we saw plenty of newly planted cedar saplings – but they were on level ground, not on the cleared slopes," said Yi.
New saplings on level ground
As well as felled trees that have not yet been taken away, said Yi, it is easy to spot areas of denuded land on the mountainside, where all the trees have been stripped away. "There are dozens of these along several kilometres of mountain road – too many to count," she said. "The locals are worried that, without the trees, landslides will be much more likely."

According to Greenpeace, the natural forests in western Sichuan are the best preserved in China and are home to rare and endangered animals, including bears, leopards, white-lipped deer and white-eared pheasant. The felling destroys their habitat. Under the protection of local people, the numbers of white-eared pheasant has recovered in recent years, but their survival is now threatened again by the fragmentation of their habitat.
Landslides on the mountainside.

Preliminary investigations by the Greenpeace team found that a local push to build permanent homes for herders was driving the destruction of the forests.

A report in the Economic Daily News in July 2010 said that, in 2009, Sichuan decided on three projects to improve the life and work of the Tibetan population. One of these was an 18 billion yuan (US$2.8 billion) plan to build 1,409 settlements in 29 herding counties between 2009 and 2012, changing the living and working conditions for 480,000 members of 100,000 nomadic and semi-nomadic herding families, promising that "every family will have a home and a new tent, and every village an activity center."

"The government helps herders build homes and settle down with cooperation from different departments," said Yi. "The forestry authorities are one of those, and supply the timber."

Feng Yongfeng, a journalist and founder of environmental NGO Green Beagle, took part in the investigation. "Of the homes built or being built, very few are all-timber constructions," said Feng. "Notices on the project also discourage the use of wood." He believes that the project is being used as cover for breaking the ban on felling of natural forests: "For a major political commitment, the law can be ignored."

Liu Bing, a forest campaigner for Greenpeace, said on his Sina microblog that while he supported the settlement projects, he also recommended "strict planning of quantities and management of felling and transportation to prevent this kind of chaotic and ecologically damaging felling." SFA inspector Yang Baijin replied on his own microblog: "The problem may lie with local forestry authorities."

In mid-May, the provincial forestry bureau announced on its website that in 2009 the Dege Forestry Bureau and the county's village Party and political consultative committees had agreed to establish six locations where timber would be provided for settlement projects and "four points are now felling and providing timber in an urgent and orderly manner." But information, such as the actual forests where these points are located at and quantities of timber to be taken, has still not been published. Greenpeace has been in touch with the provincial forestry bureau in the hope that more information can be made public to allow oversight of whether or not the settlement project is being used as cover for indiscriminate felling and illegal removal of timber.

On May 8, the SFA passed a regulation that no business activity that might damage forest-floor vegetation should take place within 500 metres of mountain ridges next to major rivers or first- or second-level tributaries. The Sichuan Natural Forest Protection Regulations also forbid commercial felling of natural forest

But photos taken by the team show that much of the recent felling has taken place on riverside slopes. Yi Lan also said that all of Sichuan should fall within the scope of the national forest protection programme, and the felling in places like Baiyu runs counter to that policy.

This year is the UN International Year of Forests, and the first year of the second phase of China's natural forest protection programme. In January, the SFA director Jia Zhibang told local forestry chiefs that this second phase would significantly raise forest protection standards, and that the first half of this year should see plans laid out for this second phase.
Natural forests felled alongside the river

Wang Wuzhi, who led the Greenpeace investigation, visited an elementary school in Garze with another NGO last year, and was shocked to see felled trees lying along the roadside. When she asked locals about it she found they were also angry. Some of the villagers said that more than 20 truck-loads of timber were being taken away each day, some of it away from Garze. They suspect that as well as supplying the settlement project, some of the timber may have been felled illegally, for sale. So they set up their own checkpoints, with groups of three taking shifts and preventing logging.

The lyrics of a local folk song say: "Without the forest there's no grasslands, without the grasslands there's no yaks, without the yaks, there's no us." That folk song, Wang wrote on her microblog, explains why the Tibetans of Maiqugou are willing to protect take such risks to protect their forests. One of the villagers who stood guard, a student called Zhuoma, said that when studying in Gansu he had boasted to his classmates of the mountain forests of his home. But he had returned to find the forests were gone.

Greenpeace sent their report to the SFA, and a forestry official from Chengdu was sent to the scene to investigate. Meanwhile, the team also suggested to the SFA that before the results of that investigation were published, a moratorium should be called on logging in Baiyu and Dege, while the SFA examine the scale of felling in the area and determine how to ensure sustainable logging.

In response to Greenpeace's request for details on the timber used in the settlement project, Sichuan Forestry Bureau said that it did not have the information and suggested consulting with the local forestry officials. However, the Garze forestry authorities said the information was a "state secret" and could not be revealed. However, other documents rule that "felling is to be made public", with the authorities to "make public the locations, area and methods of felling listed on the license, and accept social supervision."

On April 14, Yang Baijin, an SFA inspector, replied to Greenpeace on his microblog: "The forestry bureau must have this information – even if it was an order from provincial to local government they'd have to send a copy to the bureau – otherwise how could they supervise?"

On April 29, chinadialogue contacted the SFA's supervision office to ask about the results of the investigation by the provincial authorities. The information was not yet ready, they said. When it was it would be made public, they said, after consultation with senior officials.


Guo Xiaohe is an intern in chinadialogue's Beijing office.

All images from Greenpeace investigation on SinaWeibo