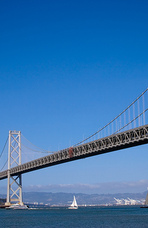 With an expected price tag over US$6 billion, California's new Bay Bridge will be one of the most expensive structures ever built when it opens next year—and a crucial component of it was built just outside Shanghai.

The Bay Bridge is only one of several major infrastructure projects across the United States in which Chinese contractors have recently played a significant role. These firms have completed a wide range of projects in multiple states, including a coliseum in South Carolina, a hotel-casino complex in Atlantic City, and bridge and subway projects in New York. They reportedly won over US$1 billion worth of US contracts in 2010 alone. With concerns focused on labour and safety issues, the environmental consequences of Chinese contractors' growing reach have received little attention. Conversations with industry and environmental experts, however, suggest they deserve a closer look.

Construction of the original Bay Bridge began in 1933 in tandem with its more famous cousin, the Golden Gate. Both quickly became vital transportation arteries linking San Francisco to the rest of California. The current project, designed to ensure the bridge's survival during a catastrophic earthquake, involves retrofitting the bridge's western span and constructing an entirely new eastern span over two miles long. Controversially, the contract to fabricate key components for this eastern span—the bridge's most vulnerable and iconic section—was awarded to a Chinese state-owned enterprise (SOE), Shanghai Zhenhua Heavy Industries.

Earlier this year, those components were brought over on barges and put in place: the bridge's massive cable, containing 137 strands of steel, the deck, and critical parts of the span's single, striking tower. (Unlike a typical suspension bridge, where cables are strung between two towers, the eastern span will be asymmetrical and "self-anchored".) With a contract value over US$350 million, the more than 45,000 tonnes of steel provided by Shanghai Zhenhua and fabricated at their plant in Shanghai represent a significant investment by the California Department of Transportation (Caltrans) in Chinese steel, which is cheaper and dirtier than its American counterpart. "I am not aware of any environmental component to the pre-award audit," said Bart Ney, a spokesman for Caltrans, of the contract. Ney did not respond to other questions about the environment impacts of the largest public works project in California's history.
Carbon-intensive steel from China

China is now the world's largest producer of steel, responsible for 45% of global output (eight times that of the United States) and increasingly oriented towards export. Structural steel from China typically has three times the carbon footprint of steel produced in the United States, according to Joe Cross of the American Institute of Steel Construction, an industry association that promotes structural steel in the United States.
US producers employ a method called Electric Arc Furnace (EAF) that uses up to 95% recycled steel. By contrast, around 90% of steel production in China, according to the World Steel Association, involves the Basic Oxygen Furnace (BOF) method, reliant on coke, iron ore (usually imported) and a much smaller quantity of recycled steel (25% to 30%). Indeed, some research indicates that the carbon footprint from BOF steel in China may be significantly greater than Cross indicated. Chinese efforts to convert to EAF are still in their infancy.

As for carbon emissions and environmental factors associated with Bay Bridge construction, "you would definitely see a recognisable difference" between using American and Chinese steel, said Michael Lepech, a Stanford professor who specialises in life-cycle assessments (LCA) of construction materials and undertakes projects in China.

Transporting materials from the United States to China plays a relatively small role in the project's environmental impact, as most materials are shipped by relatively low-impact barges, said Lepech. But carbon emissions from a booming shipping industry, increasingly centred on China, can start adding up: Brian Lombardozzi of the Blue Green Alliance, an umbrella organisation of labour unions and environmental groups, pointed out the estimate that they will increase between 150% and 250% by 2050, based on a finding by the International Maritime Organisation.

"The much bigger deal [about China-built infrastructure]," argued Lepech, "are the emissions and environmental impacts associated with Chinese power production and Chinese industrial processes. The downside of that is that we have relatively little good data on exactly what those emissions are. Obviously, they don't have to comply with the [US] Clean Air Act, the Clean Water Act, all these other things."

Issues of "public health equity" quickly arise when steel is produced in China for American infrastructure. "We're putting developing populations at more risk for asthma, for ingestion of heavy metals, for all of the things that come out of the stack of a steel plant," Lepech said. Lombardozzi cited a report by the Alliance for American Manufacturing showing that Chinese steelmakers emit around 3.53 kilograms of sulphur dioxide for every ton of steel to US steelmakers' 0.7 kilograms. Chinese companies also emit much more particulate matter. "The regulations that have been put in place have made the [American] industry figure out cleaner and more efficient ways of doing things," Lombardozzi said.

In the production of concrete, water and aggregate are usually sourced and mixed in locally, but the input cement may come from China (the single biggest source of US cement imports). "The production of cement is quite damaging to the local environment from the standpoint of dust emissions… and the alkalinity of water coming off of the site," said Lepech, adding that it is also a major global pollutant in terms of carbon dioxide. In connection with an even more massive project—California's planned high-speed rail system—one expert recently stated that low-CO2 concrete "could reduce the infrastructure's environmental footprint by 15%." But will California make the investment or simply source the cheapest material on the global market?
Growing global clout of China's builders

In a relatively recent, momentous development, five of the world's 10 biggest contractors are now Chinese SOEs, according to the International Construction rankings compiled by the KHL Group, with large Chinese construction firms accounting for US$344 billion in revenue in 2011. Their ability to underbid the competition, often based on low-cost labour and supply chains in China, has enabled them to win an extraordinary range of projects including dams in Africa, a highway in Poland, rail projects in South America and, most recently, a football stadium in Italy.

The environmental impacts of these projects vary wildly. Chinese contractors are just beginning to push beyond their primary markets in Asia and Africa (a combined 80% of their overseas business, according to the China International Contractors Association) and into North America and Europe. It no longer comes as a surprise to see Chinese politicians lobbying for their SOEs to get a big piece of the (troubled) high-speed rail projects in the UK or California—and cash-strapped western politicians are sorely tempted. Even if they follow the letter of the law where they work, the major Chinese contractors do not have a reputation for leading on environmental issues. In contrast, said Lepech, "a US-based firm like Bechtel is coming in and adhering to pretty much United States law everywhere they work".

China Construction America (CCA), a subsidiary of China State Construction Engineering Corporation, the largest of these contractors, is based just outside New York City and was recently named one of the region's fastest growing construction companies by The New York Times. The company has worked on over 100 public works projects and private developments across the US worth hundreds of millions of dollars, including seven public schools, apartment blocks in Washington DC, and major transportation infrastructure in and around New York City. Despite repeated requests, CCA refused to comment for this story, leaving unanswered questions about the sourcing of their construction materials and the environmental impact of their projects.

Western contractors are not always models, of course, and there has generally been far too little attention given to the infrastructure-environment nexus and to life-cycle assessment for large-scale projects. China's own Environmental Impact Assessment law only came into effect in 2003, and LCA is essentially a new idea in China, even for manufactured goods, given the lack of a national emission database and a shortage of expertise. The global expansion of low-bidding Chinese construction companies—increasingly in every country, on every continent, often in connection with public works projects—is occurring at a significant environmental cost. Greenhouse gases, energy, water, land use, particulates, ecotoxicity, human health impacts and the lives of ordinary Chinese people are all at stake.



Ross Perlin is a writer and linguist. His book Intern Nation: How to Earn Nothing and Learn Little in the Brave New Economy is out in paperback and ebook this year from Verso.

Homepage image by Sha Sha Chu