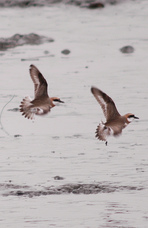 Jeff Kew has got a lot of dirt on his hands: seven million cubic metres of it to be precise.

The operations manager at Europe's largest wildlife conservation charity, the Royal Society for the Protection of Birds (RSPB), is heading up a £50-million, 10-year project to restore a system of ancient wetlands on a vulnerable section of UK coast. By bulldozing seawalls and raising land levels, his team will return an island of reclaimed farmland to the sea, creating, they say, a birds' paradise of salt marsh, lagoons and sea banks.

It's a wetland restoration project with a difference. The mountains of earth needed to realise the charity's vision are largely to come from the ground beneath London; soil dug out to make way for a 21-kilometre long tunnel which, when complete in 2017, will host a major new train link across the UK capital, Crossrail. Hungry for yet more earth, RSPB is also in talks with the team behind London's mooted new "super sewer", the Thames Tideway, with a view to getting its hands on that project's waste too.

Kew and his team believe the spoils of these infrastructure schemes can be turned to good use at Wallasea Island, an area of reclaimed land at the juncture of the River Crouch and River Roach estuaries in eastern England, believed to have been embanked in the thirteenth or fourteenth centuries, and now under severe threat from waters rising by six millimetres a year. By turning these fields into a 670-hectare wetland, RSPB says it can protect the coast from the worst ravages of sea-level rise and create new habitat for birds and fish. Both parties, explained Kew, are happy: Crossrail gets somewhere to dump its waste and RSPB gets material and financial support for its nature reserve.

The tie-up between a major public infrastructure project and a conservation NGO may be innovative, but the problems at Wallasea are hardly unique. Rising sea-levels threaten low-lying coastlines all over the world, while engineering adequate sea defences to stave off disaster looks increasingly challenging and expensive. And all the while, land reclamation continues to encroach on wetlands vital to wildlife protection and flood control. In China alone, half of coastal wetlands have been lost over the past 40 years as population and economy have boomed, according to WWF.

As countries around the world, grapple with the twin spectres of climate change and species loss, can Wallasea provide a model for adaptation?



Wallasea island (Image Copyright: RSPB)

Returning land to the sea

Kew certainly hopes so. "I think elsewhere in the world, the issues will be the same – where there's been extensive land claim of coastal marshes, probably between the 1500s and 1800s, where sea-level is going up and where land level is fossilised at the level the marshes were at that time. Many of these places just won't be possible to protect from the sea and, in order to return them to the sea, some level of land-raising will be necessary. I think there will be lessons to learn from the Wallasea project that can be transferred to those areas," he said.

Simply knocking down the sea walls at Wallasea is not an option, he explained. "If the sea were just allowed into the land through holes in the sea wall, it would bring in something like 11 million cubic metres of seawater per tide. That would
accelerate flow speeds within the main channel of the estuary, causing erosion, disruption to navigation, shell fishing and the like and further erosion of other sea defences."

Raising the land brings other benefits too. RSPB hopes the new marshes and lagoons will act as a sanctuary for birds that long ago abandoned Britain. "We'll see a lot more of species that normally occur, particularly wintering birds like Brent geese and wading birds like Dunlin and Redshank and Great Plover. And we hope to attract back species like the Kentish Plover, which has not bred in the UK for the last 50 years," said Kew.

He added that the project will be used for climate-change education and to "reconnect" the local population with the coastline. This stretch in particular has been largely inaccessible to the general population as much of the land is privately owned, or under the auspices of the Ministry of Defence. By building new banks through the marshes, said Kew, they will create opportunities to "invite the public in to visit the coast."

Luckily for the project managers, the earth being used at Wallasea won't need special treatment: "The material is all of marine origin in the first place – it's marine clays, sands and gravels which were laid down by the sea hundreds of thousands of years ago," said Kew. "We're bringing them to the surface and then just placing them in what will become the marine environment again. No special treatment is required." And once the project is completed, he continued, little upkeep work will be needed as the "sea will do the work for us", continuing to lay down new sediments over time.

Biodiversity offsetting: a new solution?

The project is not without its challenges, however. The earth needs to travel up the river from London on 2,000-tonne ships, before being unloaded onto a conveyor belt system at a purpose-built jetty. Building that system, acquiring the land and employing the technical expertise all costs money – and once you add in shipping and the placing of material, the price tag is more than £50 million, said Kew.

With costs like these and in cash-constrained times, it's easy to see the appeal to an NGO of linking up with a multibillion pound development project. Crossrail, which would have had to spend money dealing with its excavated earth in any case, is considerably lowering the financial burden on RSPB by taking it to Wallasea. "We would hope that the Wallasea project will show that by working together, thinking broadly, there can be solutions there that represent the win-win for each party," said Kew. "I think a number of pieces of regulation and business risk can come together to produce innovative solutions."

One of these "solutions" is biodiversity offsetting – the idea that habitat destroyed by development or climate change in one place can be measurably compensated for with new habitat created elsewhere. At Wallasea, one of the partners, the Environment Agency, will ascribe around 155 hectares of mudflats and salt marsh as compensation for climate-change related losses along the Essex coast. Though Crossrail's role is not required by regulation, it essentially counts as a voluntary offset. This has clear advantages for the rail scheme: it has somewhere to take its earth quickly, before the drills boring underneath London get clogged up, while meeting regulations that say construction waste should only go to landfill as a last resort.

Biodiversity offsetting has been around for a long time, but is now rapidly gaining currency – over 30 countries place some form of compensation requirement on developers for damage to biodiversity, according to the UK government. The US, for example, has "mitigation banks", where developers can buy credits for restored or preserved wetlands to write off the harm they are inflicting on nearby ecosystems. And in Australia's Victoria state, the Native Vegetation Management Framework allows land clearing as long as there is overall gain in native plant life. The UK government is following suit and this year launched a pilot scheme to test out biodiversity offsetting as part of the planning system in six parts of the country.

But Kew emphasised the need for caution: "It's only a good idea where the losses are absolutely unavoidable. It's vital to try and protect and maintain existing habitats where they are because it is difficult to provide replacements which match the quality of what's being lost and you introduce quite an area of risk as to whether they're going to be as good. You can't just say, 'Oh well, it doesn't matter, these things are very easy to replace.' Because it's not that easy."

The challenges can be social as well as ecological, as recent experience in the Netherlands shows. After years of fighting orders from the European Commission, and to the dismay of local farmers, the Dutch government finally agreed in April to flood 300 hectares of reclaimed fields in Zeeland province as eco-compensation for dredging an important shipping route to Antwerp. Head of the province Carla Peijs told public television locals would likely continue to fight the plans: "Zeelanders are against flooding reclaimed land. It cuts through their soul."