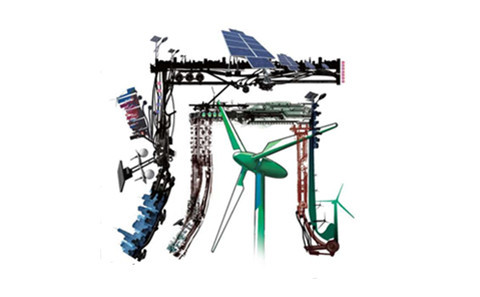 China's Renewable Energy Law, proposed in 2003, has been described as the country's "most successful piece of economic legislation to date". Within a decade of the first discussions, China's installed wind-power generating capacity increased 140-fold, while production of photovoltaic (PV) solar cells grew by a factor of 3,500. China became the world's number one manufacturer of green energy products.

For a time the green energy idea was an easy sell. When Huarui Wind Power listed on the Shanghai stock exchange in 2011, its issue price was 90 yuan a share, a 20-year record for the market. Suntech Power's flotation on the New York Stock Exchange took the number of Chinese solar firms listed in the United States to 13 – more than any other sector bar the internet.

But the sector has since been hit hard, by both the financial crisis and industry cycles. Despite heavy subsidies, it is haemorrhaging money and staff.

The great promise of green energy
Despite the boom, green energy holds only a humble position in Chinese industry. China's 4-trillion yuan economic stimulus plan of 2010 listed "Seven Strategic Emerging Industries" to be given special attention, with green energy topping the list. But together, they account for less than 3% of total GDP, and green energy is only part of that.
Also see: Should China bail out its solar PV sector?

For a time, however, the Chinese government hoped it would drive a green surge of economic growth.

62-year old Wang Bohua was once deputy counsel to the Electronic Information Department of the Ministry of Industry and Information Technology (MIIT). Summing up a career spent managing various different industries, he said he had never seen a single sector generate so many "very specific" memos from national leaders, and even more memos at ministerial level.

Before 2011, green energy firms looked like they were set for great things. Four of the world's top 10 wind power manufacturers were Chinese, as were five of the top 10 PV solar manufacturers. China had overtaken the US to become the world's biggest generator of wind power, while the 50% market share enjoyed by China's solar firms meant they were causing a stir on international markets.

But more attractive than those rankings was the high economic value of green energy projects. Local governments, desperate to boost GDP, got excited.

Local governments pondering how to spend their share of that 4 trillion yuan stimulus package realised that a facility manufacturing 100 megawatts of solar cells would create export value of 3 billion yuan. If the firm could be persuaded to expand production to 1,000 megawatts, that became 30 billion yuan. A lot of cotton mills and electronic factories would be needed to match that.

Green energy was also seen as a politically safe investment option.

Companies lose their way as profits grow

In 2005, Yu Haifeng, chief executive of ET Solar, found he was making better profits than bank robbers. A polysilicon shortage meant customers would agree over the phone to send millions of dollars direct to the company's account, without any background or credit checks. But Yu said the ridiculous ease with which the money was flowing in made him nervous.

As huge profits were turned in a rapidly growing sector, people started to lose their way. Ding Li, a regional economist at the Guangdong Academy of Social Sciences, said the authorities misjudged the fundamentals of the sector, and this was a big factor in the loss of control at the macro level.

This is linked to a lack of experience in managing emerging industries. Wang Bohua said the MIIT had never seen such huge change in an industry under its jurisdiction. "The prices, markets and policies for solar energy were changing too quickly – you'd finish reading one notice, and they'd send another. It was a struggle to keep up." Wang said that policy was always half a step behind, as the authorities hadn't anticipated such growth.

There was no agreement between the government, industry and academics on the industry's cycles either. In September 2009, MIIT issued a document warning of oversupply of polysilicon, and encountered strong push-back from industry associations and the companies themselves. According to Chinese newspaper the Economic Observer, MIIT's view was questioned by the Ministry of Science and Technology, which carried out its own research and found there was no over-capacity.

One solar expert, who asked to stay anonymous, complained that "before, nobody cared about the solar industry." But after years of rapid growth government bodies started fighting for influence behind the scenes. There was a sort of mass misunderstanding of the industry, the expert said – it was thought that the rapid growth of earlier years would continue.

Local governments chase GDP growth

The macro-level failures wouldn't have had such bad consequences if local government involvement hadn't made a bad situation worse.

To attract investment from LDK Solar, politicians from Hefei's High and New-Technology Zone took businessmen to the hotel where the company's executive vice president was staying. Repeated efforts to persuade the company to come to Hefei included a range of preferential treatments and status as Hefei's "No. 1 Industrial Project".

In Wuxi the local government even announced it would create "another Suntech". A senior executive with Suntech remembered "they gave us a timetable and said we could have several hundred mu of land for a 50,000 employee factory. It was a joke." (a mu is equivalent to 667 square metres). He told reporters that no amount of money would have been enough.

The actions of local government further weakened macro control by central government. Wang Bohua offended a number of people by refusing local government invitations to attend evaluations for green energy projects. "You'd try and persuade them not to do it, but if you persuaded the mayor he'd just ask you to go and persuade the Party secretary."

Zhang Xiliang, an energy economics expert at Tsinghua University, said that central government encourages green energy projects in order to improve the make-up of China's energy supply, while local governments are more concerned with GDP and tax income. As local govermnents are responsible for finding funding for green projects, higher levels of government have little control.

Surplus inventories, heavy losses

Huarui Wind Power and Suntech were the champions of the wind and solar sectors. Both met a surprisingly similar fate.

Han Junliang founded Huarui in 2006, and by 2010 it was the top wind power manufacturer in China, and the second biggest in the world. Its 2011 listing set a new record and instantly created a green energy giant valued in the hundreds of billions of yuan.

At the same time, Huarui set out to expand. But 2011 also saw the end of fast growth in the wind sector and the company was left with surplus inventories, heavy losses and a number of quality problems. It also struggled to free itself from a series of intellectual property disputes and scandals over job losses. In August 2012, investor Wei Wenyuan was forced to step forward and become acting president.

A similar farce played out at Suntech. The company listed in the United States in 2006 and started expanding. But in 2011 the solar power market slowed down, catching the company unawares and leading to losses, layoffs and a fraud scandal involving Luxembourg-based investment fund GSF. The huge size of the firm contributed to internal management failings that continue today. In August 2012, Shi Zhengrong quit as chief executive.

Li Junfeng, director of China's National Center for Climate Change Strategy, said that the current generation of energy entrepreneurs needed to indulge in some self-reflection: "They have the best qualities of Chinese entrepreneurs, and also the worst. They don't like to share and prefer to take everything for themselves and build empires. Together they have caused the current failures."

But local governments are suffering even more than the businessmen.

LDK Solar is facing a 25 billion yuan debt crisis, and this has led to a 52.7% year-on-year drop in industrial profits for the first half of 2012 in the city of Xinyu. Local officials say that if LDK goes bust the city's economy will be set back a decade.

"Local government funds are being used to help firms which should have gone bust cling on, resulting in losses for the green energy sector nationwide, and nobody wants to just walk away," concluded a China Development Bank employee.

"In the last 10 years, our government has learned how to help a firm succeed. But how to help a company pull out of a market, or go bust – we've got no idea," said Li Junfeng.

This article was first published in Southern Weekend