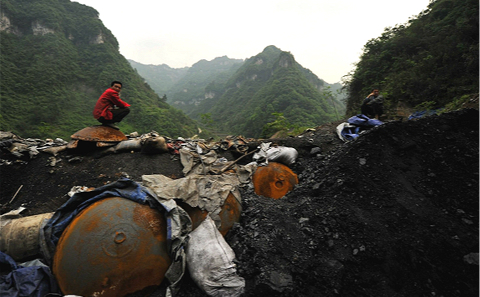 Six hundred years of mercury mining in Wanshan, in southwestern Guizhou province, ended in October 2001 when officials closed the mine because reserves had run low.

The mine was once China's biggest producer of mercury, driving the economy of Wanshan Special Zone, and bringing huge material benefits to the area. Wanshan was lauded as 'little Hong Kong' or 'little Shenzhen', nicknamed after the industrial boom town neighbouring Hong Kong where China's experiment with capitalism was launched.

To help deal with the huge environmental damage wrought by the mine, the State Council in 2009 included Wanshan in a second group of cities to be classed as 'resource-depleted'. In early 2011, the Wanshan Special Zone government embarked on a program to relocate and transform Wanshan city, while redeveloping industry on its original site.

Three years later the Dongfang Daily newspaper's reporter visited Wanshan to assess that process of transformation. Former miners are still suffering the consequences of working at the mine and its subsequent closure: high rates of unemployment, divorce, mercury poisoning, pollution, and death. Despair has also driven some to take drugs.

The former miners
Many retired miners struggle to make a living, and say that after the closure divorce became a common problem. This is in stark contrast to the glory years of the mine in the 1970s and 80s, when girls flocked here to marry mine workers. But after the closure, money pressures and stress wore the locals down and those women gradually left.
After the mine closed Huang Yaping, 55, started driving a three-wheeler taxi, a cheaper and more popular option than a conventional taxi cabs. His marriage broke up in 2001 as the mine was about to close. At the time, he earned only about 100 yuan (£9) a month. He finally remarried in June this year, though money remains tight.

In the last 10 years the starting fare for a three-wheeler has gone up from 1 yuan to 3 yuan (30p), but the number of drivers operating them has increased from 150 to 246. But most places in Wanshan are within a 20 minute walk, and the streets are deserted after 10pm.
About half of the new three-wheeler drivers are former mine workers. Another driver, Yang Mingxuan complained of fierce competition, saying he rarely makes 100 yuan (£9) a day and business is getting harder.
Huang's money and marriage problems are not an isolated case. Welder Zeng Lina and her husband, who worked for an installations subsidiary of the mining company, were laid off in 2001. Her husband left for a nearby county to work as a motorcycle mechanic. She has been too ill to work again.

In 2009 her husband asked for a divorce as her health was worsening and she was becoming an increasing burden. She survives on a 1,000 yuan (£90) pension, but it's not enough: "I don't dare spend too much."

Drug-taking has also become commonplace. Shen Yuzhen, 71, is part of a mining family in the same part of town as Huang Yaping.

Her oldest sun, Yao Benfa, had worked at the smelter for eight years but was given only a 19,000 yuan (£1,800) pay off when he lost his job in 2001. Frustrated and out of work, he started using heroin the following year and the 19,000 yuan quickly disappeared. He receives only the minimal welfare payment of 230 yuan (£22) a month, and anything of value has already been sold off to buy drugs.

Many of the miners lived in Sanjiaoyan, and the unemployed youngsters hung out here – and then heroin started to appear. Yao was one of those youngsters.

He did try to find work once after quitting the drug, but nobody was willing to employ a former drug user. His mother gave him 1,500 yuan (£140) to try and find work elsewhere and he travelled to Hunan, Zhejiang and Guangdong – but the factories told him he was too old.

He started using again after his wife left him in 2004. On December 6, 2013, he was forcibly placed in rehabilitation.

The very badly addicted started to inject heroin. One local civil servant told of addicts who had overdosed and not been found until the bodies had started to rot.

The mercury poisoning victims

Yuan Renchun started working in the mine in 1965. In September 1989, he was found to be suffering from mercury poisoning and was sent to a clinic for treatment. Yuan said that after his diagnosis he became too weak to walk up hill and was often dizzy.

Back then the mercury mining industry in Guizhou was booming, and Yuan used to work as a smelter foreman. There was intense pressure to maintain production and the workers often came into contact with mercury. The furnaces in use at the time had a reclamation rate of 50-60% - meaning 40-50% evaporated into the atmosphere. Mercury in the air could be 460 times the permitted level.

Liu Heizi, another victim, died two years ago.

When interviewed in 2011 Liu, 79, was struggling to feed himself – his hands were shaking too much, a symptom of the mercury poisoning acquired during years of mine work. He moved slowly and had to wear lightweight shoes to be able to walk.

Liu started working in the mines in 1938, as a child aged 6. He traces his mercury poisoning back to 1960 or 61. Back then he was a loader at the mine's fifth shaft, but the mine bosses asked for Communist Youth and Party members to work in the cramped spaces of the mine itself, washing ore. Liu, a Party member, washed ore for years.

On July 25, 1963, tests by the mine company found 151 workers suffering from mercury poisoning – an incidence rate of 6.6%. Liu was among them. By June 1987 the number of identified cases had risen to 274.

They still suffer from tremors of the hands and feet, and are prone to anger, agitation and confusion.

In the village of Xiachangxi Wu Congyu, 40, sits watching two children. The rice in the fields is growing well and in a few months it'll be sold to traders who come for the harvest. But Wu and her family haven't eaten the rice they grow for seven years – they started to notice black spots on the grain, or empty hulls. That was the same year the stream they use for irrigation turned dark.

The pollution was coming from Wanshan. In 2003 Wantai Manganese was founded in Wanshan, and the waste water from that operation flows into the Dashui Stream – which continues all the way to Wu Congyu's house.

At about 4pm in the afternoon of November 7, 2012, a pipe in the company's tailing ponds burst and managanese tailings flowed into the stream, causing pollution downstream.

The company started to pay compensation of 80 yuan per 100 jin (50kg) of rice to growers along the stream. But that stopped in 2013, with the official reason being that the company was closed down after another pollution incident in 2012.

The Wanshan Environmental Protection Bureau has previously told the National Business Daily that land on the banks of the stream contains 278.5mg of mercury per kilogram, compared to a standard of 1.5mg per kilogram.

Wu has no idea when their land will be safe again. Four or five years ago an expert came from Guiyang to take a soil sample – but they were never told the results.

After five years, the transformation of China's "mercury capital" is well underway.

In 2011 Wanshan created a 30 square kilometre "Transformational Industrial Park", and 51 companies have moved in. At the end of 2014 the Wanshan government will move to the Xieqiao New District in Tongren – becoming one of the "two wings" of Tongren's development.

But these transformations do not seem to have brought much change or improvement for the miners who lost their jobs.

This article was originally published by Dongfang Daily