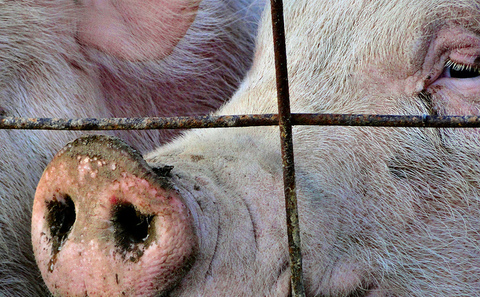 He's been called China's richest chicken farmer, but Liu Yonghao has come a long way from his days breeding birds in rural Sichuan province.

As the billionaire founder of the New Hope Group, China's largest producer of animal feed, Liu's rise over the past three decades mirrors the rapid growth of the country's agri-food corporations.

His company has been at the forefront of a boom in demand for Brazilian and US soy and maize, used to feed China's burgeoning livestock sector.

It's a boom that helped China overtake Canada as the biggest importer of US agricultural produce, with a whopping US$13 billion-worth of soy and US$1 billion of maize exported from the US to China in 2013, according to the US Department of Agriculture (USDA). That same year also saw China overtake the EU as the largest purchaser of agricultural commodities from Brazil.

Over the next three and a half decades, China is expected to account for more than 40% of the global rise in demand for agri-food imports.

"We're heading towards a new era...as the majority of the world's feed crops are destined for China's pigs," says Mindi Schneider, an agribusiness researcher at the International Institute of Social Studies in the Netherlands.

The rise of China's agribusiness

However, the story of China's new agri-food giants is not just about booming imports of Brazilian and US feed crops. If it is to import significantly more food, China understandably wants greater control over its production and distribution too.

Liu's New Hope Group are among a select group of companies – so-called "dragon-head enterprises" – given state support to go out and boost their global presence.

The trend started back in 2008 when state-owned grain trader COFCO bought a 5% stake in US pork giant Smithfield, but really caught public attention when Smithfield was then taken over by WH Group, one of China's biggest pork producers, for US$4.7 billion last year.

In a reversal of US firms buying into China's domestic sector – such as Tyson's purchase of a major stake in the poultry producer Xinchang in 2009 – Chinese firms are now looking to challenge the long-standing hegemony of US agri-food giants like ADM, Cargill and Monsanto.

The battle in South America

Although the Smithfield deal and the rise in pork exports to China – up 44% year-on-year at the beginning of 2014 – has garnered a lot of media attention, the battleground in China's emerging challenge to US giants is South American commodity-exporting countries.

In countries like Brazil and Paraguay, US agribusinesses have long dominated. But that's changing fast.

COFCO's takeover of two grain traders with major interests in Brazil, Noble Group and Nidera, earlier this year has enabled China's agri-food giants quickly to gain a foothold in the country. The US$1.5 billion deal to buy Noble, incidentally, also gave COFCO control of the fourth largest grain trader in Paraguay, where 96% of soybeans are exported.

"To me it could be a real game-changer helping Chinese agribusiness become more competitive with the other agri-food companies in Brazil," says Emeile Peine, a global agribusiness specialist at the University of Puget Sound, Washington. "It signals a shift in strategy away from saying OK we're going to partner with smaller Brazilian companies on the ground to try to establish our own infrastructure to saying we're just going to purchase our way into the market – like what happened with Smithfield."


And it's a shift that could be accelerated as companies including Liu's New Hope Group look to import more corn for use as animal feed. The World Bank forecasts maize imports will rise from 2% to 15% of China's total consumption by 2030.

Until recently, the US has been the main exporter to China, accounting for 97% of its maize imports between 2010-12. However, in an effort to reduce this dependency and boost the influence of its own agri-food corporations, China has recently signed a supply agreement with Brazil, giving a deliberate boost to companies like the New Hope Group and the major state grain traders COFCO and Beidahuang.

It's been a double-blow for US agribusiness, with China also repeatedly rejecting shipments over the past year claiming they contain an unapproved GM corn. Cargill admitted a 28% drop in its earnings earlier in 2014 was largely down to China's corn rejections.

"Unlike soy, where US agri-food giants took a firm control and are deeply embedded both in South America and China, in corn Chinese firms like the New Hope Group are poised to be key traders," explains Schneider. "A major political economic shift is happening in real time. Cargill and co are not being displaced but their supremacy is being challenged," she adds.

Destroying the rainforest

The arrival of Chinese influence could enable Brazil to usurp US dominance of global corn production and exports. However it may come at the expense of its richly biodiverse grasslands, wetlands and forests, particularly in the newer farming frontiers of the Matopiba region.

"Corn is going to be the next big factor in the Brazilian agricultural scene," says Peine.

"It's much more water and nutrient intensive than soy, so its expansion could be a real important moment of change in the Brazilian agricultural industry, with major environmental implications. It's going to be a real struggle between expanding production area in Brazil and people who are trying to limit deforestation," she adds.

China's agri-food sector has, so far, shown little concern about such issues. Despite being the largest soy importer in the world, the nation does not require any of its soy imports to be sustainably produced or certified. And unlike Cargill and other American companies, Chinese agri-food corporations are absent from the Round Table on Responsible Soy, for which members voluntarily commit to not purchasing soybeans from newly deforested land.

Forest campaigner at Greenpeace Brazil, Romulo Batista, fears the worst: "As usually happens with every commodity, it is the market that will regulate the increase in areas planted with this crop. If the demand is greater than the supply and the financial returns are high we can expect the same environmental damage usually seen in other monocultures, with new areas of forests and savannas converted into cornfields."