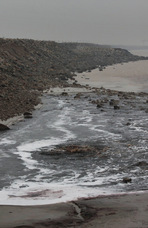 "If you want to know what color is fashionable this season, just look at this river." This is a popular saying in the Zhejiang Qiantang River area, but behind its innocence and humor lies a grave environmental problem. Around 30% of China's domestic textile printing and dyeing industry is concentrated in Shaoxing County of Zhejiang Province and so too is the industry's pollution.

See also: top clothing brands linked to water pollution scandal

On December 4, international environmental group Greenpeace released a report exposing the presence of poison in textile printing and dyeing industry wastewater in Shaoxing County, Zhejiang Province and Xiaoshan District of Hangzhou. The report, "Trend: Wastewater – An Eyewitness Account of Pollution in Textile Cities," covers water treatment and sewage plants that do business with such international brands as Levis, Calvin Klein, and dozens of other name brands.

Director Li of Greenpeace Pollution Prevention said, "We've done reports on hundreds of factories and treatment plants in the past few years, but this time it is truly shocking. Within two days, the amount of wastewater reaches 1 million tons, and the plants dump poisonous and hazardous waste into the Qiantang River both day and night."

After a test, the water was found to contain many different chemicals, including cancer-causing ammonia, benzoil nitrate, dicholorethane, and chlorobenzene. The chemicals perfluorooctanoic acid (PFOA) and plasticizers DBP, well known to be extremely toxic, were also found.

Director Li told chinadialogue that, in recent years, more and more textile printing companies have moved their operations to these two industrial parks. The daily amount of wastewater dumped has reached over 100 tons and conveniently for the perpetrators of the dumping, inside information about the industrial parks is lacking in transparency.

Li says finding the original polluters would not solve the issue of the poisonous and hazardous substances that are contained in the waste. The world textile printing and dyeing industry is presently concentrated in developing countries. Generally these countries do not have oversight of policies concerning factory wastewater output. At the same time, because the cost of clothing is pressed down by competition, there is no space to pay for administering pollution oversight. Suppliers do not want to pay for oversight of wastewater which is the responsibility of big name brands.

Last week, the famous clothing line ZARA made public commitments to phasing out toxic and hazardous substances in its supply chain and products by 2020, and to providing information about the wastewater of 100 of its suppliers. Hopefully, as awareness of the wastewater problem increases, more big name brands will follow suit.

Translated and edited by chinadialogue volunteers Marta Casey and Hope Loudon respectively.