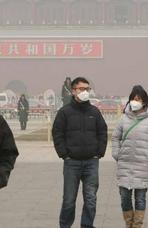 Around 8,570 people died prematurely in Beijing, Shanghai, Guangzhou and Xi'an in 2012 due to the air pollutant PM2.5 – fine particulate matter linked to asthma and lung cancer – according to a new report from the environmental campaign group Greenpeace.
The study, "Dangerous breathing", which was released on 18 December, also calculated economic losses associated with the deaths at 6.8 billion yuan (US$1 billion).
Greenpeace climate and energy campaigner Zhou Rong told chinadialogue that her team commissioned Peking University's School of Public Health to carry out the research, the first that has aimed to measure premature deaths, health hazards and economic costs caused by PM2.5 pollution in Chinese cities.
The researchers selected Beijing, Shanghai, Guangzhou and Xi'an – a city from each of China's key geographical regions – as the focus of the study. They then looked at both PM2.5 monitoring data covering the period 2004-2009 and statistics on deaths caused by respiratory and circulatory diseases for the same period, using the results to estimate annual death rates.
Another report published this month by the Health Effects Institute, a once-a-decade collaboration by 450 experts around the world, puts air pollution as the fourth-biggest health risk factor in south-east Asia.
The report found that PM2.5's negative impacts to date have far exceeded previous estimates. In 2010, the pollutant caused 3.2 million premature deaths worldwide, of which 1.2 million occurred in south-east Asia, according to the report. This is up significantly on figures for the year 2000, when the authors estimated there were 800,000 premature deaths linked to PM2.5.
Zhou Rong said: "The growth and severity of PM2.5 pollution in recent years is directly related to the rapid rise in coal consumption. Even though cities like Beijing and Guangzhou are leading the way in coal reduction in absolute terms, efforts by cities alone are insufficient when it comes to tackling the harsh reality of air pollution spreading to the regions. Areas with serious PM2.5 pollution should really face up to the daunting task of controlling coal consumption." Improving air quality in a timely manner will directly benefit public health, Greenpeace says in its report.
On December 14, the Beijing municipal government published emergency interim proposals for tackling severe air pollution in the city after the Air Quality Index (AQI) registered more than 200 heavily polluted days in the capital.
The plan categorises heavily polluted days under three bands – heavy, severe and extremely severe – and stipulates measures to be taken in response to the severity of pollution on any given day, including steps to protect public health, reduce emissions to recommended levels and enforce emission reduction.
Translated by chinadialogue volunteer smc