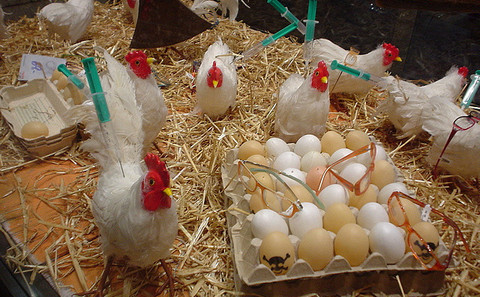 Forget dead pigs. A chemical-psychological attack from the US is the cause of China's latest bird flu outbreak, according to a hardline Chinese colonel.

Dai Xu, a senior member of China's air force and military columnist for the Global Times, suggested on Weibo (China's equivalent of Twitter) that the outbreak of bird flu, which has so far killed six people, was a foreign plot. He also claimed that the SARS crisis of 2003 was due to a similar attack, launched as a distraction from the Iraq war.

The comments were made as part of a string of criticisms from Dai over the authorities "over-reaction" to the latest cases of bird flu.

"This is exactly what psychological warfare in the information age is all about. Country M [referring to the US, Meiguo in Chinese] might simply throw over a bird injected with some biological agents, and they have achieved the strategic effect of a million troops," he wrote.

China has escalated its response to the outbreak of the bird flu since it claimed six lives and infected 18 people, according to the New York Times. Local authorities have reportedly killed more than 20,000 birds in a Shanghai trading zone and closed down live poultry markets in Shanghai, Hangzhou, Nanjing and Wuhan.

In a recent statement, China's Ministry of Health pledged to "strengthen its leadership in combating the virus ... and coordinate and deploy the entire nation's health system to combat the virus," Reuters reported.

For the PLA air force colonel, this is a gross overreaction: "Only a few people get bird flu, then there are orders to kill poultry and talks about vaccines. While it looks as if the authorities have taken prompt measures, this has exaggerated a rare event by a thousands times," Dai wrote on his Weibo account.

He urged the government to take a more muted approach: "When dealing with the recent outbreak of bird flu, the authorities should not be too high-profile. Otherwise, they will be fooled, just like during the SARS outbreak in 2003."

SARS, a respiratory disease which first emerged in China in 2003, eventually killed about 800 people worldwide, mainly in east and south-east Asia.

Like the current bird flu outbreak, Dai sees SARS as an example of a "chemical-psychological weapon": "At that time [the SARS outbreak in 2003], country M wanted to invad Iraq and feared China might have other military movement. So, they used a chemical-psychological weapon. China became a mess, and that was what country M had wanted," Dai wrote.

"Country M is repeating the same trick, and China has to learn from the past -- the bird flu outbreak would at most kill a handful of people, not even one thousandth of the number of people who have died in traffic accidents in China.

Dai's remarks were immediately ridiculed on China's social networks. Li Kaifu, an IT venture capitalist whose Weibo account has 36 million followers, asked if "the invention of the automobile was a much bigger plot by Germany and the US" since car accidents have killed many more people than bird flu. Li Chengpeng, a popular columnist and blog writer, said he wouldn't even bother to comment on the intelligence or humanity of the colonel.

However, the colonel's comments were also echoed by other like-minded Weibo user. Lin Zhibo, Head of People's Daily's Gansu Branch, posted a reply supporting Dai's theories.

"I personally have the same doubts. It was in 2003, when the Iraq war started, that China had its SARS outbreak. It might be that some people, fearing China would use the advantageous timing to attack Taiwan, employed SARS to mess up China. Now we have the bird flu outbreak just at the brink of a possible warfare in the Korean Peninsula. It might be that some people do not want China to support North Korea and so they use H7N9 to disturb China," Lin wrote.