Chinese firms have topped a list of 200 green energy and technology companies across a range of sectors, including biofuels and battery storage, confirming the country's emergence as global leader in the growing clean energy economy.

The Clean200 list, launched by As You Sow and Corporate Knights on February 21, revealed that 71 of the world's largest 200 publically listed firms are China-based. This is almost double the number from the US, which has 41 companies listed, and more than Japan, which ranks third with 20 companies.

China's two leading companies are wind turbine manufacturer Xinjiang Goldwind Science and Technology and GCL-Poly Energy Holding Ltd, which makes solar grade polysilicon, indicating that the Chinese government's massive investment in renewable energy over recent years is paying off.

Only two UK-based companies make the list: utility SSE Plc is ranked 9th, while Dialog Semiconductor came in 161st.

Toby Heaps, CEO of Corporate Knights and report co-author, noted that China's performance was particularly impressive given the size of its stock market, which is half that of the US.

Global investment into clean energy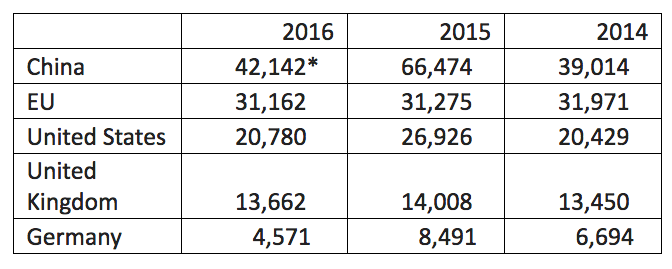 Source: Bloomberg New Energy Finance

The Clean200 list was launched in 2016 as an inverse of the Carbon Underground 200, a list of fossil fuel companies that are being targeted by divestment movements, according to data from Bloomberg New Energy Finance (BNEF).

Siemens took this year's top slot, followed by Toyota and Schneider Electric. Other high ranking companies included Johnson Controls, Panasonic, Vestas, Bombardier Phillips, Emerson Electric, Dong Energy, Xinjiang Goldwind Science, Tesla, Frist Wind Solar and Samsung. The top ten counties on the list are China, US, Japan, Germany, India, Canada, South Korea, Switzerland, Denmark and Spain.

Since the Paris Agreement was agreed in December 2015, a movement of institutional and private investors representing more than US$5 trillion in assets has divested a portion of their investments in the high carbon economy, and are committed to divesting the balance over the next five years.

The total revenue of the top three Clean200 companies totals US$355 billion, of which US$103 is revenue from low carbon energy, indicating that big international corporations continue to have a monopoly over clean energy profits, a trend we can expect to grow next year according to the report authors.

While Chinese profits are being led by wind and solar companies, entrants from a wide range of technology sectors are emerging. In the near term, biofuel and battery storage companies are expected to attract significant investment, driven by growth in consumer demand for electric vehicles and a shift to smart grids.

"Wind, solar and bioenergy, all of them are driving the renewable energy economy in their respective fields and providing the regions where their projects are located with renewable energy. There will be more renewable energy technologies joining the trends, including geothermal and solar thermal power production," said Peng Peng from Chinese Renewable Energy Industries Association (CREIA)

Despite the overall revenues of Chinese firms remaining stable, the number of firms to make this year's list fell by six from 77 last year to 71,

"The lower number of Chinese companies in the current list is not due to the fact that there is a decline in the 'cleanliness' of their revenue. The total clean energy revenue for the greater China 71 in the Clean200 is US$43.2 billion. In the August version it was US$43.7," explained the authors.

Clean200 vs Standard & Poor's 1200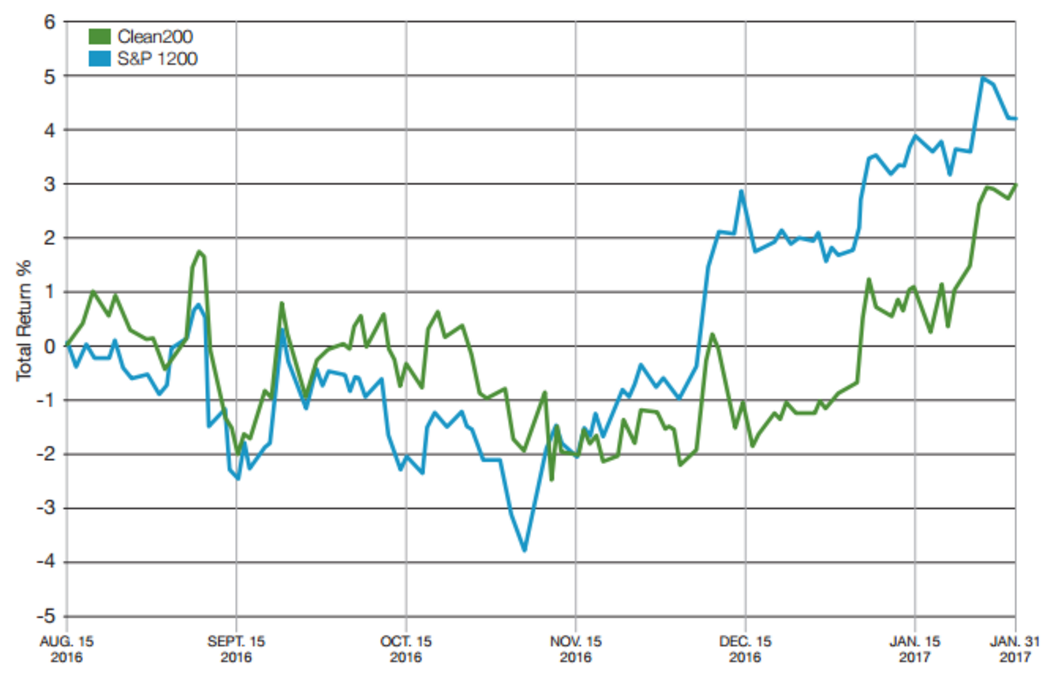 Source: Bloomberg (total USD returns from August 15, 2016 to January 31, 2017)

Does the fact that there are fewer Chinese companies on the list suggest that their market share has declined relative to US and EU companies?

"It's hard to say. Looking at the percentage of revenue on a geographical basis for a number of solar and wind energy companies, some US and European companies (Gamesa for example) have been increasing their share of revenue within the Chinese market over the period 2013-2015. On the other hand, Chinese companies like Hanergy have been steadily increasing revenue share from the US," said report authors Heaps and Andrew Behar, CEO of As You Sow.

The underlying trend is the accelerated expansion of the low carbon economy driven by the falling cost of renewable energy.

Research from the Grantham Institute and Carbon Tracker found that solar power could supply as much as 29% of global power by 2040, leaving natural gas with just 1% of market share (Exxon sees all renewables supplying just 11% of global power by 20140).

Electric vehicles could account for approximately 35% of the road transport market by 2035, with coal and oil demand peaking in 2020 and gas demand also curtailed, according to the same report.

The success of Chinese renewable energy companies is underpinned by support from the central government policy and regulations. In 2014, China increased its investment to US$89.5 billion, up 32% from the previous year. This was nearly 73% more than the US, the next largest investor.

And under the 13th Five-Year Plan, the country aims to reduce carbon intensity by 18% by 2015.

As Chinese companies increasing peruse opportunities overseas, they must face the challenges of navigating new regulatory landscapes and without the protections of the domestic market.

"In the future, with the advance of the One Belt One Road strategy, there will be more Chinese companies going out and exploring the international market," says Peng Peng.